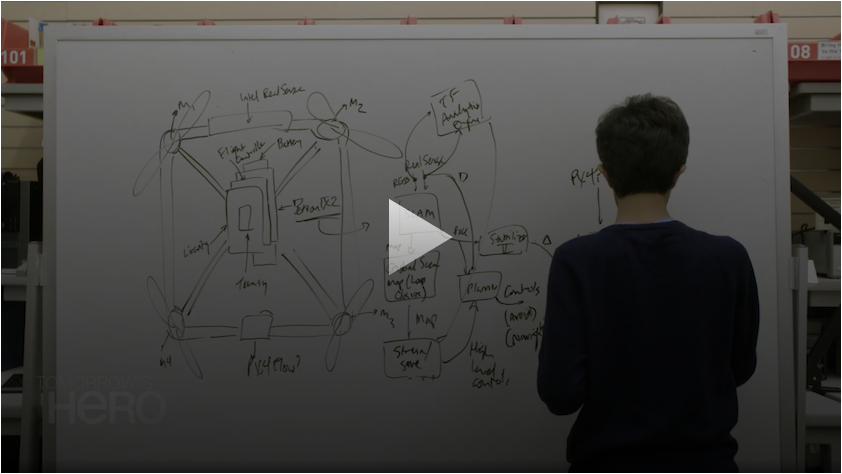 Mihir Garimella
Hi, I'm Mihir! I'm a freshman at Stanford and I'm passionate about using computer science and robotics to make a difference.
I'm currently working on creating low-cost flying robots that can carry out critical missions in indoor spaces. I'm trying to commercialize robotics research I've done over the past few years, which I worked on both independently and in research labs at CMU and MIT. I've been incredibly fortunate to have received a ton of recognition for my work, including top awards in the Google Science Fair and Intel ISEF and various media awards.
Some of my other projects include Autocross (a kit to make any RC car self-driving), HeadsUp (a $50 device to diagnose concussions on the sidelines with a quick eye test), ScentIt (a device to embed smells within movie clips), TMAScan (a set of image processing algorithms to help doctors diagnose brain tumors), and Robo-Mozart (a robotic violin tuner).
Recently, I also founded and organized FCHacks, a hackathon for local high school in Pittsburgh. Our first year was a huge success! We had 189 participants from 28 high schools around the region (plus one high school in Singapore!).
I also love to build tools for students. A few years ago, I created Classroom, a mobile app to replace the student planners traditionally handed out by schools. I've been developing and maintaining it since, and it's now used by thousands of students in six schools every day.
Some of my smaller projects are open source, and the code is available on Github. I'm most proud of CiteIt (a tool to create accurate bibliographies) and Series (an app that can solve calculus series problems using handwriting recognition and the WolframAlpha API).
You can learn more about each of my projects by following the highlighted links above. If you want to get in touch with me, my email address is mihir@garimella.io.